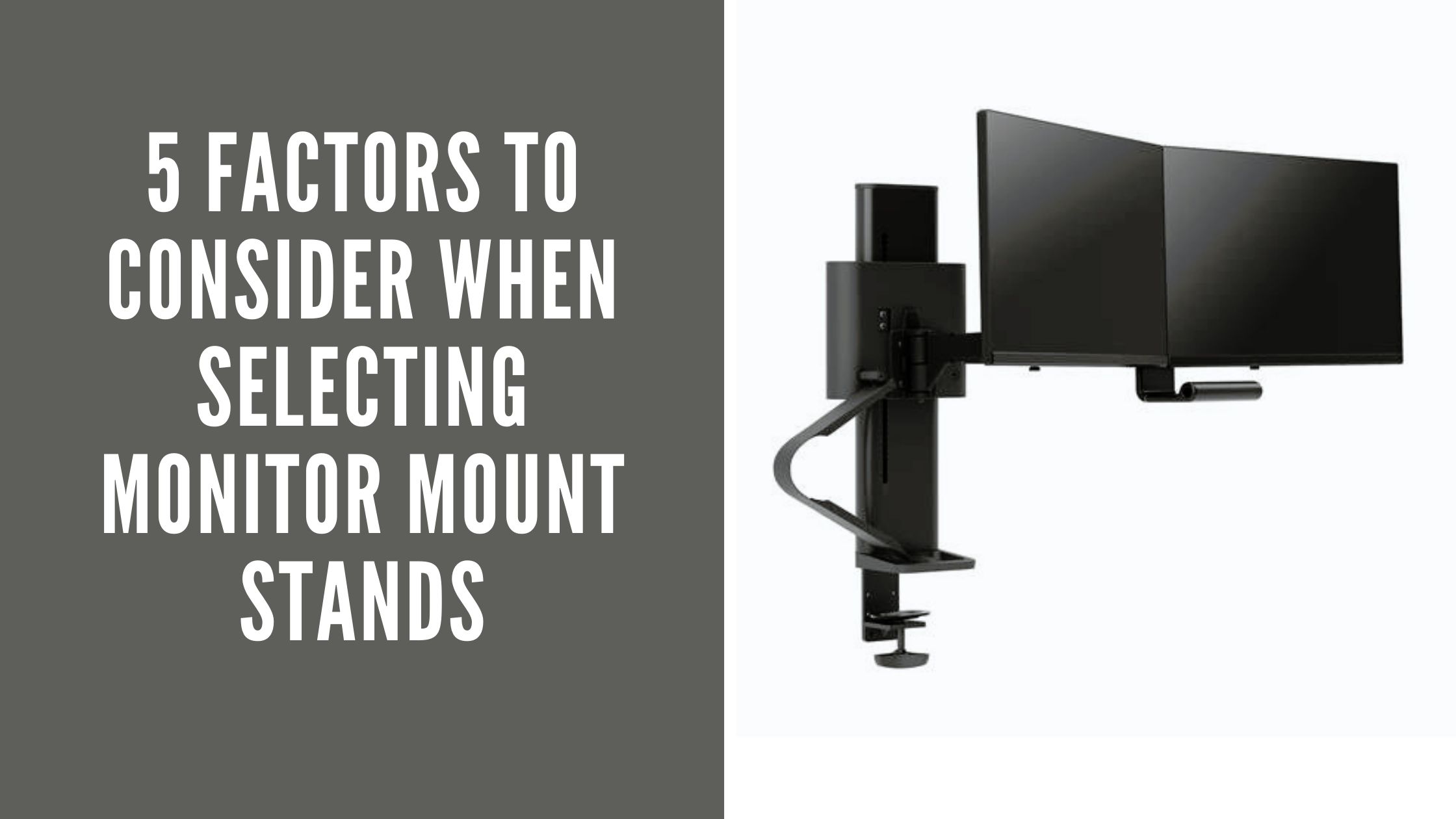 Computer monitors function as computer accessories and office décor. They are mainly used to make your working environment more pleasant, hence increasing productivity. There is a wide selection of monitor stands; hence proper scrutiny is needed to ensure you make the right preference depending on your desk layout and screen position. In the article below, we delve deeper into the different types of monitor desk mount, with a guide to help you make the right choice.
Benefits of Computer Monitor Mount Stands
Monitor stands are trendy and stylish accessories that give your workspaces personality and purpose. Monitor stands help elevate your desktop screen to eye level and create an ergonomic workstation for your back and neck. This allows you to mount your monitor in your desired position. Moreover, it makes the desk more organized by creating extra space for trendy desk accessories like tiny succulents, toys, and charging stations.
Monitor stands come in a range of styles with fun features and unique options to suit the desires of every individual. Some monitor mounts can handle multiple monitors, while some are meant to regulate the desk clutter.
Factors to Consider When Choosing a Monitor Mount
Here are a few considerations that will help you choose the right monitor mount.
Mount Type
There are many ways that you can mount your desk monitors. Different mounting types are better than others, depending on the monitor and desk size. You can choose from desk riser, freestanding, wall-mounted, or desk-mounted monitor stands.
Capacity
There is a wide range of monitor mount stands available today. However, every monitor stand usually has a capacity limit of the size and weight it can safely support. Most manufacturers will list the maximum weight that every monitor arm can support, and these range from about 15 to 30 pounds.
The maximum computer monitor dimension is usually measured diagonally from one screen to another without including the frame. For most desk mount stands, the maximum size of a monitor that it can hold is usually from 20 to 35 inches. Therefore, before ordering for your freestanding monitor mount stand, ensure that you measure and weigh your monitors to ensure that you get a stand that will support them.
Adjustability
Before you purchase a specific desk mount, you should consider its ease to adjust, rotate, swivel, or tilt the height of your monitor. Modifying the screen's position helps you create the optimal viewing angle and boost your comfort while working. Most adjustable desk stands give users the ability to rotate monitors from landscape to portrait orientation. Tilting the monitor to get the perfect viewing angle or rotating the monitor to the side to change your seating position is essential to your overall productivity.
Cable Management
The cables attaching desk monitors to the computer and electrical source are important. However, they can make your entire office look disorganized and messy. With a monitor stand, a minimum of two cords will be in plain view. There are cord organizers that can help to keep your cords orderly. Monitor stands for all desks feature channels, clips, and arms where users can tuck the monitor cords out of sight.
With the clip version, the cords will be kept tidy but will still be visible. However, the inner channel version will help hide the cords, and they will not be visible.
Space
Before selecting a specific PC monitor mount, you must consider the available space. Most people have the wildest dreams of making an ultimate quad-monitor workstation; however, many desks do not have adequate space to support such complex configurations. However, with Tripp Lite monitor mounts, you can create the perfect space-saving working area you have always desired.
When replacing your current monitor stand with a double, triple, or quad monitor mount, you will de-clutter your desk and create additional space. This will result in an enhanced organization, and your workplace productivity will also be increased.
Conclusion
Today, many people use different monitors at home for different functions. These monitors tend to take lots of space on a small desk. However, you can organize the office space with a monitor stand and free up all the clutters on your desk. Additionally, monitor stands will quickly transform your current desktop setup into a more comfortable and healthier environment. You will have a beautiful and less cluttered space where you can enjoy working for 8-hours or more every day. All you need to do is determine the features, style, and budget you want, and you will find the right monitor mount to transform your workspace.
Posted:
September 14, 2021
|
|